What to Expect at an Interview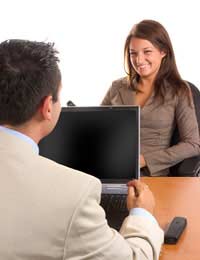 Going into any interview can be a nerve wracking experience, the sweaty palms, the dry throat, everyone has been there.
But when it comes to landing a job in property, you will need to be able to succeed at the interview and most importantly be able to sell yourself.
Interview Questions They Will Ask
The first things most employers want to know is, what you are currently doing. If you are currently unemployed and spending your days watching daytime TV, this would probably not be the best thing to say you are doing with your time. Instead talk about the property market, what you have learned about it and any work experience that you have done.
The interviewer will be trying to grasp what your personality is like, so try and identify what they are asking you with every interview question.
For example, when they ask you to describe yourself, they are wanting to see how you come across as a salesman. A lot of working in the property market involves selling properties or taking out clients, and you may need to be able to be a gifted salesperson.
Interview Tips
One of the interview questions potential employers love to ask is why you actually want the job. It is important at this point to sound as keen as you can about working for that particular company and the benefits it brings. Look up a few property projects that it has worked on and speak about why you like and admire them, and how they link in with your skills.
What You Do Outside of Work
This is an interview question that can trip many interviewees up. You may think it's a good idea to talk about how you play three hours of football every night after work, but you have to be careful that you do not make it look like your hobbies will interfere with your work life.
The interviewer will want to make sure that you have some kind of life outside of work. The property market can be demanding and they may want you to work a lot of overtime, so make sure that
Strengths & Weaknesses
This is the interview question that everyone dreads at interviews. It can be hard to judge just how much you should focus on your negative points, however, it is best to mention these and the interviewer will want to know that you recognise your faults. A good interview tip is to try to relate your faults to the job in hand though and spin them around into a positive light. The most important thing to remember at a job interview for a property job is to show that you are willing to work and you are enthusiastic about the sector. You should drop as many examples of your past experiences within the property market as you can and try to look at the market in a much broader light and discuss the property sector in general.
There is no winning formula when it comes to the perfect job interview style, but the two traits you must demonstrate are enthusiasm and a willingness to learn.
You might also like...