Accepting Commission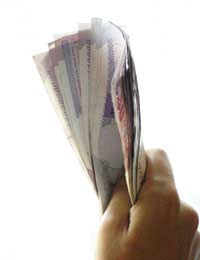 When working in the property market you may find that the prospect of earning lots of commission will haunt every property transaction you carry out. You will normally get a percentage of every property you sell which will act as a wage on top of your normal salary, this is known as commission.
Understanding Commission
If you sell a client a property that is worth £300,000 you could get a percentage of the transaction, such as 3%.
The more transactions that you carry out the better your commission will be, employees often find that this method acts as an incentive for their employees and encourages them to do more work.
A lot of firms will offer a relatively small basic wage when you embark on your property career and it will be up to you to earn more money through commission. If the property market is doing well this can be a great bonus but if times are tough then you will need to work extra hard for your commission.
Commission can come in all forms, it does not always have to be in the shape of more money. You may find that some of your clients will treat you to occasional corporate hospitality which although will not be classed as commission will be an additional treat on top of your normal wage.
How Commission Works
Commission is a necessary evil unfortunately when working in the property market. Working by commission can sometimes tempt you into choosing one deal over another.
When starting your career in the property market you will quickly learn how commissions works. If for example you have a number of properties to show a client and one is priced more highly than the other you will gain more commission on the higher priced property.
On a similar basis if your client's property portfolio is doing well and making the client a lot of money then you will get a cut from the profit made from the portfolio.
Likewise, if you fail to make your client's assets work for you then you will not see much reward.
The Dangers of Commission
Money makes the world and the property market go round. The danger of working in any market where money plays such as prominent part is that there is the risk to sell things for the wrong reasons.
Most people working in the property market will be realistic about how much commission they will earn from property transactions and they will not try and sell for the wrong reasons.
For some though it can be harder putting this into practice. You may find that there are two possible property developments that your client could invest in. One of them might be better for you client in the long run, while the other may offer you more commission. You will need to make the right decision for you and your client, not just the one that offers the most money.
You will need to be aware that although selling more properties will give you more commission throughout your property career you should use your own integrity when it comes to accepting commission and make sure you have acted in the best interests of your client.
You might also like...