Becoming a Chartered Surveyor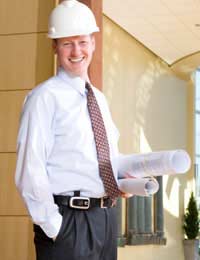 You will hear the phrase chartered surveyor a lot among the property community, don't be fooled into thinking that this is simply referring to a valuer. Chartered surveyor is a term that is used to describe a number of jobs and careers in the property market.
Jobs That Fall into the Chartered Surveyor Category
One of the most common type of surveyors is a quantity surveyor, this type of surveyor estimates how much a building project may cost, they carry out a complete analysis of labour, materials, and any future costs. Quantity surveyors will also have regular meetings with architects and engineers to discuss the case.If you have more of a flare for marketing then you may wish to consider a career as a general practice surveyor, where you would be responsible for not only valuing, but the marketing of the property. Normally general surveyors would have experience in construction, and planning law. Building surveyors, are sometimes seen as the less glamorous surveyors, they are responsible for valuing existing properties, and often advise owners how best to save money and renovate the building to be the most cost effective.
This contrasts with planning surveyors, who will often scope out new sites to build new properties on, and report back to the property developer about whether it would be a worthwhile location. This is by no means a definitive list though, there are many jobs that the chartered surveyor category covers,
Training Needed
Every firm will ask for a different types of professional qualifications, so it is worth checking with them first as to what qualifications you will need.
It goes without saying, that the minimum you will require is some form of GCSEs, essentially English and Math, grades A-C, you may also want to look at getting a BTEC National Certificate/Diploma in Surveying, or a BTEC Higher National Certificate/Diploma in Surveying.
Most courses will also require you to do some kind of work placement, whether this be voluntary or paid, it doesn't matter, what is important is that you show interest in the property career that you are opting for.If you go onto degree level, your course will need to have a course that is accredited by the Royal Institution of Chartered surveyors.
These will be your stating points, there is a lot more training that may be necessary before you reach the position of being able to call yourself chartered.Just because you do the course, it doesn't necessarily mean that you will come out of the other end with the qualification. It is tough work getting chartered and not something that is awarded easily, so it is important to put the work in.
Training for a career as a chartered surveyor can be very rewarding, but you will need to make sure you are the type of person that doesn't mind a few years of training, before you achieve results. Chartered surveyors are regarded as professionals, and in some instances on a par with those that work in the law, so it is not surprising that you need professional qualifications, don't be put off though, as it will be worth it in the end.
You might also like...
I'm 20 years old. Working in retail. I've decided surveying is something I'd be very interested in but don't really know how to go about getting into the industry. I've done research but alot of it conflicts. I need to know if it's possible for me to find a position that will take someone with no qualifications or experience and train them on the job. Any advice would be greatly appreciated. Regards, Charles R Nice
Milky
- 26-Aug-16 @ 8:33 AM
been in the building trade for over 20 years and fire and flood restoration for 10, I'm 48 and looking for a change and would like to do surveying. With a keen eye and use of equipment like thermal imaging, Testing equipment and construction knowledge fault finding is changing my opinion on my work to achieve something more challenging and to also share my knowledge. Currently looking for some training and experience in becoming a qualified chartered surveyor. any help will be appreciated
andy
- 29-Mar-15 @ 8:16 PM
i have been an estate agent now for 7 years, im 51 and would love to train as a surveyor. I have an HNC in business management, 7 'o' levels and 3 highers. Is there a course ou course that i could do or a long distance study course. thanks
annie
- 23-Oct-13 @ 10:39 AM
It is excellent to have to be able to research a top excellent content with useful details on topics that a lot are interested on.I recognize with your outcomes and will seriously look forward to your future up-dates.Thanks....................................
marcel
- 19-Sep-12 @ 8:29 AM
I leave in Cameroon, Africa and it is a growing society that is infrastructurally speaking.I have a BSc in environmetal sciences and work with the government,but i also want to go into private practice,in quantity surveying or architectural techology so as to contribute significantly in building my society.What step can I take to undertake such training while in Africa?
none
- 12-Sep-12 @ 1:27 PM
I am a franchisee in estate agency and would like to become a general practice surveyor or a building surveyor to supplement the services we offer. I have a non related degree in Business and a technical award from the NAEA. What would be my next steps?
Mark
- 9-Nov-11 @ 10:14 PM
Hi, I have worked at an Estate Agents for over 6 years in sales and lettings but now would like a career change and would like to become a building or planning surveyor. I have a non-related degree. How do I go about becoming qualified? Thank you for your help
Andy
- 3-Nov-11 @ 6:42 PM
I currently work within the pipefitting, plumbing industry and fancy a change of career.