On The Job Training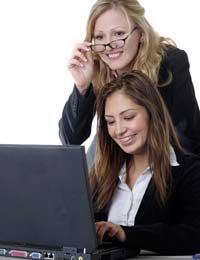 Unless you are very lucky, most trainee chartered surveyors, or property professionals will start off their career doing some form of on the job training.
Do not be surprised if you enter a property firm and you are treated as the new kid on the block. All of the more experienced members of the team will have had a training period, which they will probably all agree was not the best part of the job.
You first job will probably be some kind of training position, and a firm will pay for you to complete your on the job training and if its applicable, gain your converted chartered status.
What to Expect as a Trainee
Unfortunately, starting off as a trainee, does not always mean that you will be given the fun jobs to do. You will start at the very bottom and be expected to learn from others. This can often mean working long hours for little pay, but it can often be rewarding, and you will be able to get some on the job training.
Most property firms will take on graduates with a view of training them up to gain extra qualifications. They may also request that you do the specific qualifications which the firm prefers. It can often work to your advantage when a firm wishes to pay for your training, but it will normally come at a cost.
As with a number of professions, property companies will want to make sure you are a good investment, so they may offer to pay for your on the job training, if you stay with the firm for a set number of years after you have gained your qualification.
This won't be a problem if you like the place where you are training, but if for some reason you don't, you may find yourself tied into a contract and unable to leave, so make sure you feel comfortable with the firm before you join.
Different Kinds of Training
Depending on what type of property job you opt for, your on the job training may vary. Part of your training may be to shadow another member of staff at the firm, who could act as a mentor. With every type of training that you do, it is important to remember that while it is a learning process, it is also part of your job and you should take it as serious as possible.
As part of your qualification that you are working towards, you will most probably have to product a file of work, or examples of situations where you have shown your skills, so make sure that these are as good as you can possibly make them.
The best way to get to grips with the property sector is to throw yourself in there and get the hands on experience that is needed. Even learning from your mistakes can be worthwhile, and give you more confidence. Visiting a property site and working with the people involved can give you better experience than you ever could from reading about it, or studying it, so do not take on the job training lightly.
You might also like...