Personal Presentation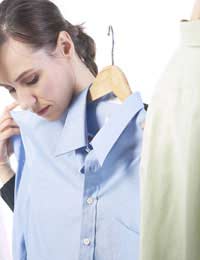 Looking The Part
First impressions count, so it is important to make sure you make a good first impression when working as a property professional. Appearances can be everything and looking good can be the difference between you clinching a big deal or losing it.You will not normally get 'dress down' Fridays when working in the property market, if anything it will be the reverse. You will be expected to dress appropriately and not come into work in your jeans and trainers.
It will be up to you to maintain your personal presentation, most companies will expect you to dress appropriately, so men will need to wear a shirt and tie. It is a bit of a man's world in the property field so women will need to make sure that they dress appropriately and do not wear tops that are too low cut or skirts that are too high.
When going out to visit clients your presentation will be important because you are representing your company. If you know that you have an important business meeting the next day you will need to work on your presentation and make sure that you are looking good and have taken time with your clothing. If you are travelling by car you will need to make sure that you get the car cleaned so you make a good impression before you have even met.
Presenting Yourself
Your presentation can go a long way to making up for other areas where you may lack talent. If you have to present a big presentation to a client or a company than how you look will form part of your presentation skill. A client is likely be much more impressed with what you have to say if you are dressed smartly and presented well. They are less likely to want to take somebody seriously who is dressed scruffy. So when you are planning a big presentation, keep in mind that your appearance could help your presentation skill.
Not all jobs in property will require you to be dressed head to toe in smart attire, there will be days where you will be required to dress for an onsite visit.
A number of property jobs will require you to go on site visits, if you are visiting a dirty building site the last thing you will want to put on in is your best suit or high shoes, so think about what clothing will be best to wear. If you work in development or on the construction side of property you will expected to wear a hard hat, boots and some form of overall when visiting a site. These will normally be provided for you but it is worth keeping in mind how your job will differ and what you might be asked to do, you may be on site but personal presentation will still be important.
Keeping Up Appearances
It is not just in your day-to-day work that you will be expected to look after your presentation and follow certain dress codes you may also find yourself dressing for an occasion outside of work. If you need to attend any formal gatherings for work or go travelling, then you will be expected to look presentable at all times.
If you are attending a formal dinner or a black tie event then your presentation will be important and you will need to look the part and wear suitable clothing such as a formal dress or a tuxedo. You should make sure that you check whether the party is black tie before you attend, your bosses will not be impressed if you show up in your Friday night party outfit for a formal event.
Knowing the right thing to wear for work can sometimes seem like an uphill struggle, starting a new job can be daunting and you may not know what to wear immediately. You should make sure you look smart and presentable when working in property and keep in mind at all times that first impressions can go a long way to clinching a deal.
You might also like...