Working in a Corporate Environment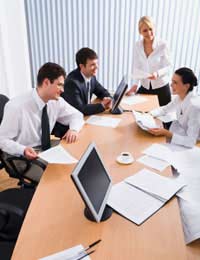 Entering into a career in property can be a shock to many new recruits, when they find themselves placed in the highly corporate environment.The phrase corporate environment can refer to many aspects of the working office.
Working in a property firm, you will be faced with the challenges that a corporate environment can bring.
A corporate environment is hard to define, but operates in any office where you are accountable to more than one person for your actions.
Many a job has been ruined by the restrictions placed down by a so-called corporate environment.Firms that operate this kind of culture will normally be the larger firms, and ones that work on a large scale.
People often find corporate environments very impersonal, as you will have you will normally have to be answerable for your actions to a number of your seniors.
Everyone has office politics, but in reality it can mean the difference between a happy or unhappy workplace.
What it Means to Work in a Corporate Environment
Depending on how large the business is and what environment they operate in, you could find yourself placed under certain restrictions when you are out representing the firm. For example, if you have corporate team building, or a company party, your bosses will expect you to act in an appropriate manner and not get drunk.
Working in a corporate environment is very much adopting the nine to five culture, a lot of employees often complain of being just another face in the business or getting lost in the crowd.
You can easily get swept up in office politics and arguments that are going on in the office, although on the surface things may appear to be quite civilised. There is usually not much banter that takes place in a corporate environment, as the main aim is to get the work done.
Benefits of a Corporate Environment
One of the best things about working in a large corporate environment is the benefits that you will get. Larger firms are likely to have good pension systems, and other benefits such as child care vouchers and good holiday pay. The larger the firm, the better legal representation you will also have.
So, if you do happen to make a mistake at work, although your bosses may come down hard on you, then you should have their full backing if any legal issues occur. You will also be expected to get involved in corporate team building, so lots of day activities may be on the cards.
Not all property firms adopt a corporate environment culture, however, it is important to think about how your work environment will be once you have embarked on your career. You can normally tell what kind of office you will be working in when you go to the interview for a job, so make sure that it seems to be one that you are comfortable in.
A lot of people can thrive in a corporate environment, however it can get others down and ruin any potential career that they had. There is nothing wrong with a corporate environment, you just have to make sure that it is right for you.
You might also like...