What Kind of Working Environment to Expect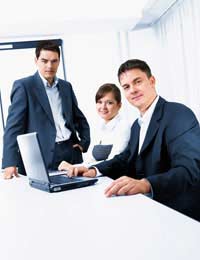 A career in the property industry can be unlike any other professional industry; you will be faced with daily challenges and be forced to think on your feet.The working environment that you will be thrown into will be fast paced and you will have to be willing to put in the long hours. Having said that, those that choose a career in property should also possess some element of patience, as projects can often take a long time to happen and develop, so you may not see your ideas in practice until a few months or years down the line.
The property industry has gained itself a reputation over the years as being stuffy and dull and for men with grey hair in ties. This is not the case, but there is an element of tradition involved with some of the larger and more established firms. A lot more of them are starting to take on new recruits, but they may still treat you as the underdog until you have proved your worth. Working in the commercial property market is still seen as an established profession, and you find among some of the older firms that they will only want to recruit people form the top universities.
Day-to-day Working Environment
Whether you are out working on a site or back in the office, the role of a property professional is seen as business like, so you will be expected to dress smartly at all times. Even if you do not have meetings, most companies will operate some kind of dress code. Despite the property appealing to so many young people, you will find that it is still very much dominated by men. Over the years a lot more women have started to take some of the more powerful jobs and break into the property market, but the ratio of men to women still remains in the men's favour.
The work ethic among those that have a job in the property market is generally very high, and property workers will not think twice about staying late or until the job is done. Working on a large project can be stressful, which means after work, for the reminder of the night, a lot of people will hit the bar for a wind-down. A day-to-day job in the property market is very corporate, however with this also comes the benefits that go with a corporate environment, such as nice offices, a good pension and good holiday pay.
Atmosphere At Work
Although the property market is a professional one, you will often find that most offices are buzzing, with employees busy closing deals and chasing down contacts. Depending on which job and firm you join could determine whether you have an enjoyable working environment, an office with a lot of young new recruits may be more enjoyable than one where everyone has separate cubicles and expected to work on their own. One thing is for sure though, you will be expected to work hard in your job, which is what the property market is all about and why it is so entrepreneurial.
A job in the property industry in many respects is just like any job, the office atmosphere may change from one firm to another, so it is important that you get a feel for what the company is like and what the people are like before you walk through the door and start your career there.
You might also like...