Estate Agency Work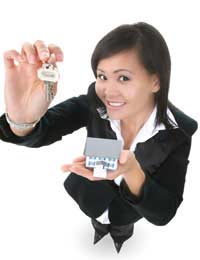 Estate agents do so much more than selling an buying properties. Working at an estate agency can be a rewarding an challenging sector of the property market to enter.
Estate agents need to know about every street, every housing estate and every property that goes on sales in an area.
If you have ever sold you house then you know how frustrating it can be if the sale falls through, so you can imagine that having to deal with this on a daily basis working as an estate agent can get stressful at times.
Your Main Responsibilities
Your ultimate job as an estate agent is to negotiate purchases and sales of properties, there are a number of specialist areas that you can focus on working at an estate agents.
Your first job will probably be as an administrator in an estates agents, so you will not be able to start showing people around properties on your first day, but you will gain valuable experience as to how the market works and Depending on your qualifications it may be possible for you to start as a trainee sales negotiator.
Working in Sales & Lettings
If you have good people skills and don't mind working outside of normal office hours, then a career in sales and lettings could be for you. The nature of the job will require you to be quite flexible and work within a commission driven culture.
You will need to be ambitious and be able to put in the hard work. Jobs in sales and lettings are often popular among graduates, as you can usually earn more commission the more work you out in, something new recruits don't seem to mind doing as much. As part of the job you will have to show people around houses, view properties, and carry out the necessary paperwork.
Valuation
Just like in the larger world of commercial finance, estate agents also need valuers. A lot of estate agents will have in house property valuers, whose job it is to taking photographs and measurements of the properties and assess their value. This is a job that is also popular with graduates and you will need some form of property qualification to start of in valuation.
Marketing
Many of the larger estate agencies will also have somebody that works in house doing the marketing of the properties. This would involve liaising will local newspapers and publications to make sure that the properties are seen by potential buyers. You will also be responsible for any in-house marketing that the firm needs. A property qualification would be desirable or the role, but not essential.
Working as a Negotiator
They don't call estate agents negotiators for nothing. As part of working in sales and lettings you will need to not only negotiate rents with the tenants and landlords, but also with any buyers and sellers of properties. This can be a tricky business, so you will need to not have the type of personality that does not get stressed out easily. Although most of your work will be involved in the residential sector, you may occasionally have to deal in commercial property, auctions and selling land.A career in an estate agency, you will have to get used to a fast pace culture and being able to know the property market around you inside out. Residential property can be just as exciting as the commercial, and although it is on a smaller scale, can be just as rewarding as working in commercial, if you are willing to put in the work.
You might also like...