Working in Residential Property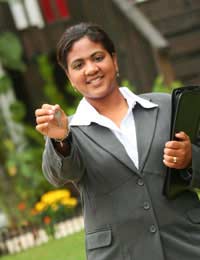 The highs and lows of the residential property market means that the residential property sector can unfortunately sometimes be less lucrative than the commercial market.
That doesn't mean it doesn't have its benefits though, if you are a born salesman and are quite able to search down a person's dream home, then working in residential property could be right for you.
Working in Residential Property Management
A university degree is not always essential for a job in certain types of the residential market. Residential property management and estate agents are a great place to learn all about the different aspects of the property market, and experiencing the joy of being able to find somebody their home.
Estate agents and residential property management firms have all sorts of jobs and you can start of as an administrator and work your way up to a salesperson, with very few qualifications needed.
Working as an estate agent, you will not only get to sell properties, and earn commission, but you may also have to rent out properties and work on the landlord's behalf, collecting rent and maintaining the property.
Although it's not all glamour in the residential market, it may not just be three bedroom semi-detached houses that you are trying to sell. You may find yourself with a few wealthy clients on your books, which are looking to sell million pound properties. If you do, then this will mean a lot more money for you and make the job that bit more exciting. Working in residential property management you may also have a few wealthy clients whose property interests you will have to look after.Unfortunately over the years' estate agents haven't gained the best of reputations, mainly because they can earn quite a lot of commission from selling you a property. Estate agents are normally voted as one of the professions that people trust the least. Don't let this put you off though, working as an estate agent can be a fast paced and exciting career.
Residential Property Investment
The most exciting part of the residential market is in the residential property investment aspect of the business. Watching and being part of the life cycle of a new residential property development being built can be well worth all the hard work of working on a development.
The government are investing heavily into housing schemes, and the constant lack of affordable housing means there is always work to be had.The chances are though if you are working on the residential property development side of things, then you will be doing a mixture of both residential and commercial work.
The jobs in the residential property market are very similar to the commercial, the projects will still need agents that are able to sell the properties, and they will need planners and surveyors who are able to value the development and monitor its progress. The only difference there will be is the type of property that you are working on. You may find yourself taken out of city centres and into more rural settings, on a smaller scale. Whether it be development work or residential property management work, the residential property can be just as rewarding as the commercial sector. You may not be working on multi-million innovative sky scraper buildings, but you will be providing people with their much loved home, which can be just as fulfilling.
You might also like...